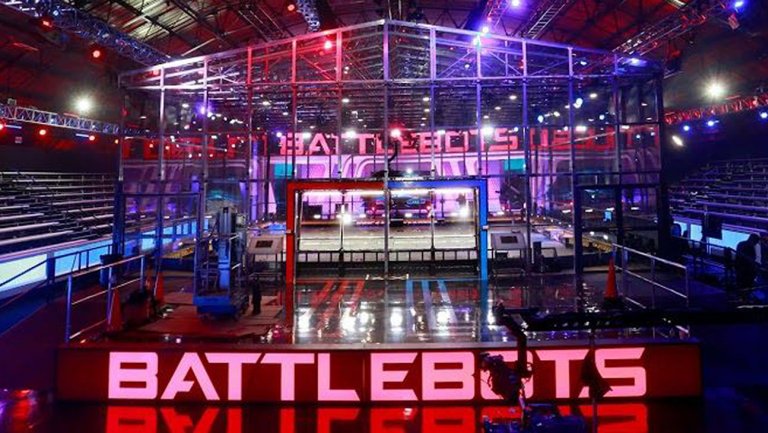 Meet builders and their robots from ABC TV's Battlebots
A robot must autonomously navigate through a mock home with multiple rooms with a candle randomly placed in one of the rooms, simulating a house on fire. The robot needs to find the candle and put it out, paving the way for a house-hold robot which would find and extinguish small home fires before they can engulf the house. Rules & Info >>>

The spirit of this competition is to be encouraging and welcoming to robotics enthusiasts with diverse experience levels. This competition focuses on collaboration and helping one-another learn to complete the overall objective. The objective is similar to the DARPA Grand Challenge, robots are programmed to make their way through an outdoor course going to various GPS centered orange cones as waypoints. The robots must avoid obstacles, and the start and end points are never line-of-site. Scoring is based on both speed and accuracy. Rules & Info >>>

Two robots 1lbs. compete in a head-to-head match following the basics of boxing. Robots are mostly teleoperated, but autonomous control is allowed. Like boxing, the robots are given three full minutes for a round, in which either one of the robots is knocked out or the match time runs out, and 3 judges decide the winner. Most anything goes in terms of weapons, excluding water and electrical tasers. Rules & Info >>>
Robots are programmed to following a black line on white paper. Fastest time wins. Rules & Info >>>

Two 3lbs. robots compete in a head-to-head match following the basics of boxing. Robots are mostly teleoperated, but autonomous control is allowed. Like boxing, the robots are given three full minutes for a round, in which either one of the robots is knocked out or the match time runs out, and 3 judges decide the winner. Most anything goes in terms of weapons, excluding water and electrical tasers. Rules & Info >>>

The object is to build a robot that can deposit a block into a shoebox while staying on a table. Phase I, Build a robot that goes from one end of a table to the other and back. Phase II, Have the robot push a block off the edge of the table. Phase III, Have the robot push the block into a shoebox mounted at the end of the table. Rules & Info >>>
Where is it?
Sierra College, a California community college, has its main campus in Rocklin, California, United States. Rocklin is in the foothills of the Sierra Nevada Mountains, approximately 20 minutes from the state capital of Sacramento and 105 miles (169 km) east of San Francisco.
Sierra College | 5100 Sierra College Blvd, Rocklin, CA 95677
Event Inside Cafeteria
Saturday May 4th from 10 am to 6 pm.